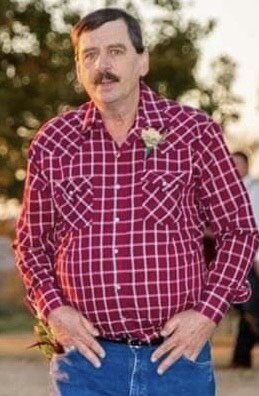 In Memory of Denis Osborne
Denis Leon Osborne, 60 of Wilburton, Oklahoma died November 21, 2020 in his home from cancer.
The graveside service will be held at Memorial Gardens Cemetery, Wilburton, Oklahoma on December 5, 2020 at 11:00 a.m. with Scott Horstman officiating.
Honorary pallbearers are Jerry Blassingame, Raymond Hutchinson, Teddy Marmon, and Donnie Gunter.
Denis was born on May 20, 1960 in Muskogee, Oklahoma. He worked in the oilfield his whole life. Denis enjoyed spending time with his family, grandchildren and great grandchildren. He also enjoyed fishing. That was his true passion. He was the best poppy to his grandchildren and great grandchildren. He was loved by many.
He is survived by his wife, Fronie Osborne of the home; his mother, Lenora Forwoodson of Wilburton, Oklahoma; daughters: Jamie Dedmon and fiancé, Kole Egeland of Quinton, Oklahoma and Tammy Scott and husband, Bam of Wilburton, Oklahoma; brothers and sisters, David Osborne and wife, Joanne of Stroud, Debbie Spann and husband, Ron of Hot Springs, AR, Amy Wardlow and husband, Jack of Red Oak, and John Forwoodson and wife, Desiree of Wilburton; grandchildren: Dakota Morgan and husband, Jospeh of Gowen, Deric Scott and Jennifer Zehe of Wilburton, Oklahoma, Camren Lane Hohn and Riley Tuff Egeland of Quinton, Oklahoma; great grandchildren: Adisyn LaRaye Ward, Denver Ray Scott, and Haizlee Jewell Morgan. Denis also has several nieces, nephews and friends.
Denis was preceded in death by his father, Donald Osborne; father, Kenneth Forwoodson; maternal grandmother, Oleta Osborne; paternal grandmother, Viola Osborne and brother Danny Osborne.
A special thank you to Heartland Hospice of Mcalester Oklahoma and Scott Horstman. In lieu of flowers please donate to Heartland Hospice.
Services under the direction of Waldrop Funeral Home, Wilburton, Oklahoma.
View Original Notice → Denis Osborne